Payroll Outsourcing Services in Thailand
Employees love payday. But for small-business owners, as well as finance and HR payroll people, handling payroll can be a chore. Remembering every employee's hours, deductions, benefits and vacation days — not to mention understanding Thai tax law and having to deal with government offices? It can be overwhelming even if you only have a few employees to process.
To avoid unnecessary payroll-induced headaches, we encourage small and mid-sized businesses in Thailand to hire a payroll outsourcing service. The benefits, as you can imagine, are considerable.
First, there's the stress relief of no longer having to do your payroll in-house. Then, there are the reduced costs that come with outsourcing payroll administration in Thailand. You're no longer wasting time and resources paying employees a premium to work on payroll-related activities. Instead, you're leveraging external payroll experts to make your payroll error-free and in compliance with Thai tax law.
Customized Payroll Outsourcing Solutions
But the benefits really start piling up when you partner with us. At your free consultation, one of our payroll specialists will meet with you and learn your situation. From there, we'll tailor our process to your needs and build a customized payroll outsourcing service that's right for you.
Secure Cloud-Based Payroll System
Your payroll will be hosted on our secure cloud-based HR system and employee self-service portal. It's simple to use and always available so that you can access and update your data whenever you want.
Simple Payroll Workflow
Then, there's the simple workflow. All you have to do is send your data to us using your choice of our cloud-based portal or email. From there, we'll do our calculations and report them back to you. Then, with your approval, we'll give your employees pay-slips, transfer money to their accounts and file the applicable government reports.
Responsive, Friendly Customer Service
Once your payroll is up and running, we'll remain responsive and ready to answer your questions and concerns. Because for us, excellent customer service and communications are as much a part of payroll services as being efficient, accurate and on time.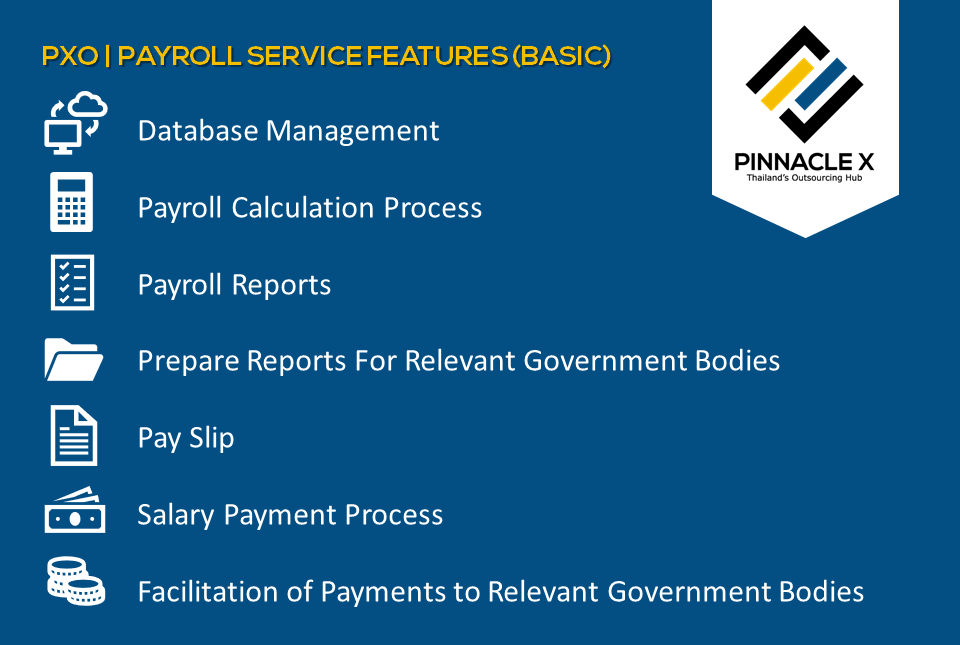 Payroll Outsourcing Service Features
Staff's Payroll Database Management
We organize your payroll data and make it up-to-date.
Payroll Calculation Process
Accuracy and responsive are the heart of the process. Also, we customize our workflow and process based on your needs.
Payroll Reports
Payroll summary report
Bank report
Provident fund report
Prepare Reports For Relevant Government Bodies
Withholding tax calculation – คำนวนภาษีหัก ณ ที่จ่าย
PND1 (Por.Ngor.Dor.1) – ภงด.
PND1K (Por.Ngor.Dor.1Kor) – ภงด. 1 ก
Withholding Tax Certificate (50 Tawi) – หนังสือรับรอบหัก ณ ที่จ่าย (50 ทวิ)
Social Security Report (SPS 1-10) – รายงานประกันสังคม
Report of New Member to Social Security Fund (SPS 1-03, SPS 1-03/1) – รายงานการแจ้งเข้าเป็นพนักงานใหม่
Report of Resigned Member to Social Security Fund (SPS 6-09) – รายงานแจ้งสิ้นสุดการเป็นพนักงาน
Workmen's Compensation KorTor20Kor รายงานแบบแสดงเงินค่าจ้างประจำปี
Pay Slip
Digital pay slip – web browser, email and application on mobile.
Salary Payment Process
Prepare a bank file
Deposit directly to the employee's bank account (flexible upon request)
Additional Services
Employee Self Services Portal (ESS) includes; E-Payslip, E-Leave, E-Portal, E-Attendance, E-Reimbursement, clock-in and clock-out on mobile (GPS or Becon)
Contact us now and find out how we can help design a payroll outsourcing solution that's right for you!